Introducing to the delights of India – The Maharajas' Express introduces new itinerary for year 2019-2021. The hidden riches of India lie in its breathtaking beauty and its diversity of cultures. With world's leading luxury train, Maharajas' Express, you can embark on an unforgettable escapade that starts off with the capital city of Delhi. Guests journey their way through iridescent lands of Jaipur to reach the vivid greens of Ranthambore. We then take our royal guests to the ancient capital city of Mughals, Fatehpur Sikri and then to Agra where they can
witness the immortal sheen of the Taj Mahal. They soak in the regality of Gwalior and discover the sensuous moods of the temples of Khajuraho. Finally we reach the sacred city of Varanasi, and observe the divine beauty of River Ganges. Cruising on houseboats in Alleppey is the latest and probably the best addition to the list of ways you can enjoy the mesmerizing natural beauty of this quaint little town. Alleppey is gifted with a unique crisscrossing network of canals that runs throughout the town which allows you to access and explore the entire area while you're relaxing on your houseboat. An idyllic village along the coastlines of the Arabian Sea, Kovalam is most famous for its three pristine beaches with shallow waters and low tidal waves where one can go surfing, wooden and motorboat riding.
Day 1 - Arrive Delhi-Friday
Today you are met at the Indira Gandhi Airport Terminal 3 by our company executive with your name placard who would assist you to the Car and then transfer you to your pre booked Hotel
Overnight stay at the Hotel in Delhi
Day 2 - Delhi-Saturday
Breakfast in the Hotel
Later our executive will introduce you to your Guide who would then take you for a full day city tour of New and Old Delhi visiting Qutab Minar – which is the tallest brick minaret in the world, Humayun's Tomb, India Gate – a war memorial which was built to salute the brave Indian soldiers of the British Army who lost their lives in World War 1, Rastrapati Bhawan or the President's House and the Parliament Street where you can see various government buildings,
Raj Ghat the cremation place of the Father of the Nation Mahatma Gandhi, Jama Masjid, Red Fort and the Chandni Chowk
After the city tour you return back to the hotel and relax.
Overnight stay at the Hotel in Delhi
Day 3 - Delhi – Board Maharajas Express The Indian Panorama-Sunday
Breakfast at the Hotel and Checkout
Later our executive will assist and transfer you in a Private Air Conditioned Car to Delhi Safdarjung railway station to board Maharajas Express The Indian Panorama
This morning, assemble at Delhi Safdarjung station at approximately 0730 hours and complete your registration and check in formalities, as you enjoy sipping into your welcome drink enjoying the live instrumental music. The train shall proceed to Jaipur at 0830 hrs.
Enjoy a leisurely lunch on-board. Join us for a tour brief and meet your facilitators during this exciting journey.
Deboard at around 1500 hrs to visit the City Palace galleries including the Textile Museum, Arms Museum and Arts Museum.  Admire the famous Sterling Silver Vessels entered in the Guinness Book of World Records. The vessels are said to be made from 14000 silver coins without any joint and were used by Maharaja Sawai Madho Singh II to carry the water of the Ganges to drink on his trip to England in 1901 to attend King Edward VII's coronation.
After your visit to the City Palace, proceed for an exclusive dinner at the Rambagh Palace Hotel. The Palace built in 1835 AD was the residence of the Maharaja of Jaipur from 1925 to 1957, when it was converted into a luxury hotel. The palace retains its royal splendour, hand-carved marble latticework, and elaborate gardens.
Afterwards, return to the station by 2030 hours on Maharajas' Express.
Breakfast and Lunch on-board. Dinner at Rambagh Palace Hotel.
Overnight Stay at Luxury Train Maharajas Express – The Indian Panorama
Day 4 - Jaipur, Rajasthan-Monday
After on-board breakfast, deboard at around 0830 hrs to visit the Amber Fort. The Amber Fort, set in picturesque and rugged hills is a fascinating blend of Hindu and Mughal architecture. Constructed by Raja Man Singh I in 1592 and completed by Mirja Raja Jai Singh, the fort was made in red sand stone and white marble. The rugged forbidding exterior belies an inner paradise with a beautiful fusion of art and architecture. Amber is the classic and romantic fort-palace with a magnificent aura.
A short jeep ride takes you up to the fort where you will enjoy a tour of the royal apartments, with striking views of the gorge. Step back into the Mughal era as you enter the Chamber of Mirrors (Sheesh Mahal), and the Hall of Victory. Return to the train for lunch or you may choose from a range of optional activities like Spa facilities at a hotel or explore the city with your private car and guide.
Please contact the Guest Relations Executive for the optional activities.
Return to the comforts of Maharajas' Express. Dinner will be served on-board. Maharajas' Express leaves for Sawai Madhopur (Ranthambore).Breakfast, lunch and dinner on-board.
Overnight Stay at Luxury Train Maharajas Express – The Indian Panorama
Day 5 - Ranthambore National Park, Sawai Madhopur, Rajasthan; and Fatehpur Sikri, Uttar Pradesh-Tuesday
Upon arrival into Sawai Madhopur, early in the morning, get ready for a safari to the Ranthambore National Park. Originally the private hunting ground of the Maharajas, Ranthambore was declared a National Park in 1973. It is famous for its open sightings of tigers, sambar, chital, nilgai, chinkara, wild boar, sloth bear, hyena, jackal and leopard. Wildlife cannot be compared to that of Africa and you are indeed fortunate if you spot the elusive tiger or the shy leopard.
Proceed for an early morning exciting game drive. The safari is carried out in open vehicles and the ride is quite bumpy and dusty. One must carry adequate warm clothes for winter months.
Return to the train. Enjoy breakfast as you continue your journey to the fabled deserted Mughal city of Fatehpur Sikri. Admire the changing landscape as you savour lunch.
On arrival at the quaint station of Fatehpur Sikri, disembark at 1530 hours and proceed on a tour of the fascinating sights comprising of imposing gateways, Halls of Private and Public audience, beautifully sculptured palaces with unique water bodies, reflecting a perfect blend of Hindu and Muslim architectural styles. This deserted red sandstone city was built by the great Mughal Emperor Akbar as his capital in the late 16th century. It is now a famous UNESCO World Heritage Site. Return to the train. Enjoy an "Indian Evening" on-board followed by dinner.
Breakfast, Lunch and Dinner on-board.
Overnight on the Maharajas' Express.
18:00 Return to the comforts of Maharajas' Express
20:00 Dinner onboard. Overnight on train at Fatehpur Sikri
Overnight Stay at Luxury Train Maharajas Express – The Indian Panorama
Day 6 - Agra, Uttar Pradesh-Wednesday
Early morning arrive into Agra – the jewel of India, home to one of the world's great architectural wonders – the Taj Mahal. With its spectacular monumental masterpieces and picturesque natural setting, Agra is a legendary city glorified by time. Early morning, disembark and proceed to the world famous Taj Mahal. A UNESCO World Heritage Site, which was built by Shah Jahan as a mausoleum for his favourite queen Mumtaz. This incomparable marvel is constructed entirely out of white marble and is an architectural masterpiece with beautiful inlay work and marble screens. Approximately 20,000 of India's most revered craftsmen were recruited to give shape to this poetry in marble.
Later enjoy breakfast gazing at the Taj Mahal, from atop the Taj Khema.
Following breakfast, return to the train for lunch. Afternoon is at leisure or you may choose optional activities – Spa at a hotel or visit to Agra Fort. Return to the train for dinner as the train proceeds to Orchha.
Please contact the Guest Relations Executive for the Optional activities.
Breakfast at Taj Khema, Lunch and Dinner on-board.
Overnight Stay at Luxury Train Maharajas Express – The Indian Panorama
Day 7 - Orcha and Khajuraho, Madhya Pradesh-Thursday
Disembark at Orchha Railway Station at 0700 hrs to visit the quaint village of Orchha known for its rustic lifestyle. Visit the Orchha Fort, built over several years in the 1500s by the Bundela rulers overlooking the Betwa river. A short Tuk Tuk ride will take you to experience village life in the hinterland. Return to the train for breakfast.
Enjoy a relaxed lunch on-board as the train continues its journey through some of the most dramatic and picturesque environs towards Khajuraho.
Khajuraho is renowned for its architecture and exquisite sculptures. Built between 950 and 1050 AD in a truly inspired burst of creativity, the temples are superb examples of Indo-Aryan architecture. The highly sensual engravings depict the whole range of human emotions and relationships.
On arrival proceed on a tour of the magnificent temples of Khajuraho, a UNESCO World Heritage Site. Explore the western group which constitutes some of the finest examples of Chandela art at its peak including the Kandariya Mahadev Temple dedicated to Lord Shiva.
In the evening you may enjoy optional activities – Dances of India show at Kandariya Shilpgram or you may enjoy Spa facilities at a Hotel or Sound and Light Show at the temple complex.
Please contact the Guest Relations Executive for the optional activities.
Breakfast, Lunch and Dinner on-board.
Overnight Stay at Luxury Train Maharajas Express – The Indian Panorama
Day 8 - Varanasi, Uttar Pradesh-Friday
Today as you enjoy breakfast on-board, your journey continues through rich agricultural fields, arriving into the holy city of Varanasi.
One of the oldest living cities in the world, Varanasi (also known as Kashi or Banaras) has a spiritual legacy of over 3000 years. A place of pilgrimage, this holy city is set on the banks of the sacred river Ganges. Varanasi epitomizes the chaos and colour of India. Lively bazaars, exquisite and bright silks, festivals, temples, mosques and palaces – all can be found here.
Following disembarkation, proceed for lunch at Hotel Taj Ganges. After lunch, visit the ancient ruins of Sarnath, where Buddha delivered his first sermon expounding the principles of Buddhism. Proceed for a boat cruise on the Ganges, en-route visit a Silk Weaving Centre, where you may even shop for some world famous Banarasi silk saris and brocades.
Enjoy a scenic cruise on the river Ganges and witness a magical evening aarti at the ghats of the holy Ganges.
Return to the comforts of Maharajas' Express. Dinner will be served on-board. Maharajas' Express leaves for Delhi.
Breakfast on-board, Lunch at Taj Gateway Hotel and Dinner on-board.
Overnight Stay at Luxury Train Maharajas Express – The Indian Panorama
Day 9 - Delhi (Train Disembark) & Delhi – Cochin (By Flight)-Saturday
Enjoy a leisurely breakfast on-board as the train arrives into Delhi.
Disembark at around 1200 hrs at Delhi Safdarjung Railway Station.
Breakfast on-board.
You will be met by our executive at Delhi Safdarjung Railway Station and he will transfer you to Delhi Airport to board Flight for Cochin. Upon arrival in Cochin Airport you are met by our
executive and transferred to your pre booked Hotel
Overnight stay at the Hotel in Cochin
Day 10 - Cochin-Sunday
Breakfast in the Hotel
Later proceed for city tour of Cochin visiting Mattancherry Palace also known as the Dutch Palace. This palace is also famous for depicting Kerala mural paintings. The palace is built in
the traditional style of Kerala architecture.
Jewish Synagogue Also known as Paradesi Synagogue. It is the oldest synagogue in the entire Commonwealth of Nations and was built in 1568 by the Malabar Yehudan people or Cochin
Jewish community in the Kingdom of Cochin
Chinese Fishing Nets unique for their size and phenomenal construction.
St. Francis Church is the oldest European church in India. The great Portuguese explorer Vasco da Gama who discovered the sea route from Europe to India died in Kochi. His body was buried in this church.
In the Evening witness the famous Kathakali dance performance performed by professional artists in an A/C Auditorium
Overnight stay at the Hotel in Cochin
Day 11 - Cochin – Alleppey (By Private Vehicle 65 Kms, 1 ½ Hrs Drive) & Alleppey – Start 01 Night Houseboat-Monday
Breakfast in the Hotel
Later you are transferred to Alleppey Jetty to board Houseboat. House boating can be the most relaxing experience for any age, size or type of people. Cruise through the back waters of Kerala along the palm fringed waterways and you would be able to breeze past the water lilies,
lush paddy fields, coir villages, rustic homes, temples and coconut groves.
You can also witness the traditional Keralite village lifestyle unchanged for many years. You hear the merchants selling vegetables in a boat while the village people wait at the bank of
Vembanad Lake. Here your crew will prepare delicious Keralite meals from freshly brought vegetables from the market.
(Houseboat starts at 12 Noon) (Meals Included Lunch and Dinner)
Overnight stay at Premium AC Houseboat
Day 12 - Houseboat disembarks at Alleppey & Alleppey – Kovalam (By Private Vehicle 175 Kms, 4-5 Hrs Drive)-Tuesday
Breakfast in the Houseboat
Later Houseboat disembarks at Alleppey at 10:00 Hrs and proceed for Kovalam. Kovalam is a beach resort in Kerala as there are many beautiful beaches. Upon arrival in Kovalam check in at
your pre booked Hotel.
Overnight stay at the Hotel in Kovalam
Day 13 - Kovalam-Wednesday
Breakfast in the Hotel
Day at leisure for your personal activities (No Transportation Available)
Overnight stay at the Hotel in Kovalam
Day 14 - Kovalam-Thursday
Breakfast in the Hotel
Day at leisure for your personal activities (No Transportation Available)
Overnight stay at the Hotel in Kovalam
Day 15 - Kovalam – Trivandrum (By Private Vehicle 20 Kms, ½ Hrs Drive) & Trivandrum – Mumbai (By Flight)-Friday
Breakfast in the Hotel and Checkout
Our executive will assist and transfer you to Trivandrum Airport to board Flight for Mumbai. Upon arrival in Mumbai Airport you are met by our executive and transferred to your pre booked Hotel
Overnight stay at the Hotel in Mumbai
Day 16 - Leave Mumbai-Saturday
Breakfast in the Hotel and Check out from Hotel and our Executive will assist you and transfer you to Mumbai International Airport to board Flight for Onward Journey
End of Services
Itinerary, destinations and scheduled departures may change without prior notice.
Please contact your Guest Relations Executive for further details, prices and bookings of optional activities.
| Month | Days |
| --- | --- |
| December, 2023 | 22 |
| January, 2024 | 19 |
| February, 2024 | 16 |
| March, 2024 | 15 |
| April, 2024 | 05 |
| September, 2024 | 27 |
| October, 2024 | 25 |
| November, 2024 | 22 |
| December, 2024 | 20 |
| January, 2025 | 17 |
| February, 2025 | 14 |
| March, 2025 | 14 |
| April, 2025 | 04 |
This trip is only Operational between September till April and as per the Day & Date of Arrival mentioned 
For the price of this Tour kindly fill out the Request Form and submit it to us. Please do not forget to give us your correct e-mail address and your contact telephone number.
Our Expert Team will get back to you within 12 – 24 Hours with the complete day to day detailed itinerary, tour price, tour Inclusions and a full accommodation list.
Alternatively, you may call us on :
United Kingdom Clients : 01753 201201 or Whatsapp us on +447739716978
USA & Canada Clients : Toll Free 1-855-9-526526 or 416 619 7795 or Whatsapp us on +447739716978
Australia Clients : 61 – 2 – 86078986 or Whatsapp us on +447739716978
Email : great-vacation@btconnect.com , tailormadejourney@btinternet.com
Our Team is waiting to assist you with any further enquiries you may have.
Our holiday itineraries are planned with utmost care. In case you wish to modify any part of the Itinerary, our experts will help you to meet your requirements.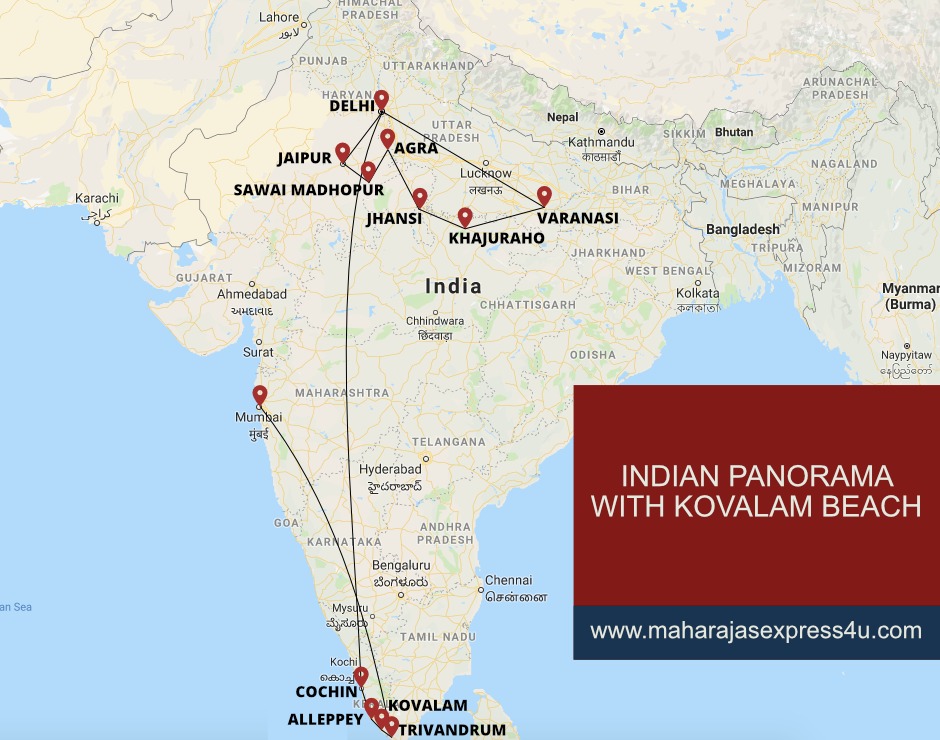 Award Winning – The Maharajas Express
India… a country with a history as old as time. A country where diverse dynasties have ruled through centuries, leaving their indelible imprint on the landscape, language and culture of the Indian Sub-continent. Majestic Palaces, Forts, Rich natural bounty, Untamed wildlife… there's so much to soak in and store memories for a lifetime while traversing on the Indian Panorama.
The Indian sub-continent is very vast and to undertake comfortable Luxury trips on various tour circuits will be a tiresome affair.
The tour circuit on this vast Indian landscape is made convenient by the Maharajas' Express – the latest Luxury Train and provides Luxury on wheels.
It offers five luxury train circuits on wheels to let one choose the best way to discover and explore the treasure trove and amazing Indian kaleidoscope.
The Luxury Tour Circuits on wheels, let one explore exotic locales such as a trip to one of the largest dinosaur fossil parks at Balasinor with opportunity to meet one of the Indian royal family, a trip to the erotic temples of Khajuraho, to participate in the Elephant activities at Jaipur, cocktail & barbeque sundowner on the sand dunes at Bikaner, champagne breakfast overlooking the immortal beauty of the Taj Mahal, boat trip on the Ganges at the holy city of Varanasi – and much more…
The unmatched ambience, contemporary amenities, impeccable service and luxurious decor provide a Royal Tours on board this Palace on wheels.
Maharajas' Express by providing an Experience Unsurpassed, with its mélange of providing immaculate on-board services and well designed Luxury Tour Circuits had made
The Metropolitan – New Delhi
The Metropolitan Hotel New Delhi is 5-minute drive from Connaught Place, It features an outdoor pool and 3 dining options. Situated in New Delhi's city centre, it also offers a fitness centre and spa. The Metropolitan Hotel & Spa is 1 km from New Delhi Railway Station, 500 m from Airport Express Metro Station (Shivaji Stadium) and 15 km from Indira Gandhi International Airport. Stylish air-conditioned rooms feature Indian motifs. Equipped with an iron and a flat-screen TV with cable channels, they also come with a minibar. Private bathrooms feature bath and shower facilities and a hairdryer. Guests can check e-mails at the business centre or relax at the full-service NeoVeda Spa, which offers massage services and a steam room. There is also a shop selling a range of items including hand-woven scarves, an assortment of teas and aromatherapy oils. Sakura Restaurant serves Japanese dishes, while Chutney Bar + Tandoor Restaurant offers Indian delights. The pool-side Zing Restaurant offers international fare and is open round-the-clock. In-room dining is possible.  Hotel has 178 Rooms
Divided in the Category of Deluxe , Club and Executive Suites.
The Lalit – New Delhi
Set in a grand building in bustling Connaught Place, The LALIT New Delhi welcomes guests with its full spa and outdoor pool. It offers an extensive range of 7 dining options, including some 24-hour ones. The Lalit is a 10-minute drive from New Delhi Railway Station, while Indira Gandhi International Airport is 24 km away. Spacious, soundproofed rooms offer subtle touches of Indian culture. Generously furnished with a flat-screen TV and DVD player, some rooms offer an iPod dock. An electric kettle and a minibar are provided in each room. Iron and ironing board can be requested. Guests can experience Ayurvedic and natural therapies at Rejuve spa, or opt for a work out in the fitness centre. Other facilities include a business centre, free private parking and The LaLit Galleria, which features a variety of shops. Dining options include Baluchi Indian restaurant and Woks Chinese restaurant. 24/7 Restaurant and Bar are open all day everyday for dining convenience. The hotel also has a 24-hour pastry shop for sweet cravings. Hotel offers 461 Rooms categorized under Deluxe Rooms , Premier Rooms , Executive Club, Suites
The Claridges New Delhi
Located in Lutyens New Delhi, The Claridges, New Delhi, offers rooms with old-world charm and contemporary furnishings. Just 3 km from the city centre, it has a temperature controlled outdoor swimming pool and 6 dining options. Free WiFi and parking is available. Wooden-floored rooms feature a satellite flat-screen TV and a pillow menu. Each is well-equipped with a minibar and tea/coffee making facilities. Safety deposit boxes and ironing facilities are available for guests convenience. The hotel has a variety of amenities including a health club. Mediterranean cuisine is served at Sevilla, while Dhaba offers North Indian fare. Pastries are available at Ye Old Bakery Patisserie and Jade serves Chinese food. Choose from beverages at Aura – The Vodka Bar. The Claridges is within 1.5 km from Delhi National Museum and Lodhi Gardens. Within 4 km of the hotel is Connaught Place. It is 13 km from Indira Gandhi International Airport.
The Leela Palace New Delhi
The Leela Palace New Delhi is a blend of Lutyen's architecture and the royal Indian culture. A pampering spa, 4 dining options and free parking are available. Elegantly decorated, air-conditioned rooms feature a high-definition flat-screen TV with a DVD player, floor-to-ceiling windows and wooden furnishings. A 2nd flat-screen TV in the bathroom is a mirror when turned off. The Leela Palace New Delhi is less than 10 minutes' drive from the India Gate. Indira Gandhi International Airport is 15 km while the Domestic airport is 13 km. The exclusive spa by ESPA offers an Ayurveda inspired day spa menu created for both women and men while rooftop temperature-controlled swimming pool offers the panoramic views of the city's skyline. Guests can also approach the 24-hour front desk to rent a computer or a car. Housed in a modern glass structure, The Qube offers an international and Indian buffet with open kitchens. Other dining options include Le Cirque and MEGU from New York, the award winning restaurants. Indian food is served at Jamavar . Drinks can be enjoyed at the hotel's 2 bars. Hotel offers 254 Rooms
Taj Green Cove Resort and Spa Kovalam
The 16 acre Taj Green Cove has a kilometer of coastline, Balinese style villas nestled on a hillock overlooking the Ocean with a lagoon in between. Ayurveda and Jiva spa lead by a Naturopathy Doctor. Wellness Spa therapies as well as A holistic Wellness Routine is crafted on request by our Wellness Doctor. The Seaview villas, suites, exclusive Pool Villas as well as Tropical Garden view rooms are all architected in a Balinese Style with exquisite wooden furnishing, 24 hour in-room dining. All Villas havebeen particularly designed to blend into the tropical gardens around, the bathrooms embodying a unique stone sculpture garden. Sprawling lawns and wooden walkways along the coastline, jogging trails allow guests to run along different terrains, down the hillock from their rooms, along the lagoon and seaside. Sunsets are photographed along with high tea and typical Kerala snacks hosted by the Taj Green Cove every evening. Children and adults enjoy a tranquil evening country boat ride along the lagoon. If tranquility is what you are looking for, the beach beds along the coastline will have you asking for more. The Infinity Pool and Fitness center overlook the lagoon & the ocean, the Ayurveda Spa room has a private plunge pool and dining nook. All Jiva Spa treatment rooms have a private stone sculpture garden view. The kid's activity room has carom and other board games, books, toys along with a full-time care- taker and baby-sitting services on request. The Seaside Specialty Restaurant "Bait" is uniquely located with the tranquil backwaters to one side and the roaring Arabian Sea with sandy dining as its facade. The world-renowned "Bait" is also frequented for its exhaustive variety of vegetarian platters and wood-fired marinades give plenty of options for every palate. An all-day Diner "Jasmine Bay" offers poolside dining with Asian and Continental menus. The Taj Green Cove is a 20 minute drive from the Trivandrum International airport.
The Leela Kovalam
The Leela sits on a cliff, offering panoramic views of the Kovalam shoreline and the Arabian Sea. The Leela Kovalam offers Rooms and Suites starting from 474 sq ft (44 sq mt). It has 125 Garden and Beach View rooms, 49 Club rooms: includes dedicated Butler and exclusive Club Spa and Gymnasium, 9 Suites: includes dedicated Butler and exclusive Club Spa and Gymnasium. Rooms at The Leela Kovalam Beach combine wooden décor with modern amenities like a flat-screen TV and tea/coffee making facilities. Each room provides views of the garden or the sea. Dining Options Include The Terrace (all day dining); The Tides (Beach side Sea food restaurant); The Cafe (at The Club); The Bar and The Sky Bar. The Leela Kovalam Beach is 14 km away from Trivandrum City and the famous Padmanabhaswamy Temple. Trivandrum International Airport is a 40-minute drive away.