On this journey visit the world's greatest monument of love-the Taj Mahal, spot the exclusive Tiger in Ranthambore National Park, soak up the spectacular regal heritage of Rajasthan at Jaipur and also pay a visit to One of the most spiritual places in India, Golden Temple, also known as Sri Harmandir Sahib, the holiest shrines in Sikhism and is alive with religious fervour and sacredness.
Day 1 - Arrive Delhi-Tuesday
Today you are met at the Indira Gandhi Airport Terminal 3 by our company executive with your name placard who would assist you to the Car and then transfer you to your pre booked Hotel Overnight stay at the Hotel in Delhi
Day 2 - Delhi - wednesday
Breakfast in the Hotel Later our executive will introduce you to your Guide who would then take you for a full day city tour of New and Old Delhi visiting Qutab Minar – which is the tallest brick minaret in the world, Humayun's Tomb, India Gate – a war memorial which was built to salute the brave Indian soldiers of the British Army who lost their lives in World War 1, Rastrapati Bhawan or the President's House and the Parliament Street where you can see various government buildings, Raj Ghat the cremation place of the Father of the Nation Mahatma Gandhi, Jama Masjid, Red Fort and the Chandni Chowk After the city tour you return back to the hotel and relax. Overnight stay at the Hotel in Delhi
Day 3 - Delhi – Amritsar (By Flight)-Thursday
Breakfast in the Hotel and Checkout Our executive will assist and transfer you to Delhi Airport to board Flight for Amritsar. Upon arrival in Amritsar Airport you are met by our executive and transferred to your pre booked Hotel Evening visit to Wagah Border for Flag Ceremony Overnight stay at the Hotel in Amritsar
Day 4 - Amritsar-Friday
Breakfast in the Hotel Morning we visit the famous Golden temple which is sacred to the Sikh Nation, here we will find time to tune into the amazing spiritual centre and feel the power that inspires the Sikh people worldwide. We continue our city tour and visit the Jallian Walla Bagh – Martyrs' Memorial built in the shape of eternal flame of liberty is situated on the outskirts of Golden Temple. Here about 1500 and 2000 persons who were attending a peaceful meeting during the freedom movement fell under the bullets of the British General Dyer on 13 April 1919 and the city of Amritsar. Overnight stay at the Hotel in Amritsar.
Day 5 - Amritsar – Delhi (By Flight)-Saturday
Breakfast in the Hotel and Checkout Our executive will assist and transfer you to Amritsar Airport to board Flight for Delhi. Upon arrival in Delhi Airport you are met by our executive and transferred to your pre booked Hotel Overnight stay at the Hotel in Delhi
Day 6 - Board Train Maharaja Express: Safdarjung Railway Station, New Delhi and Agra, Uttar Pradesh: 0930 hrs-Sunday
Breakfast at the Hotel and Checkout Later our executive will assist and transfer you in a Private Air Conditioned Car to Delhi Safdarjung railway station to board Maharajas Express The Treasures of India
This morning, assemble at Delhi Safdarjung station at approximately 0600 hours, complete your registration, and check in formalities, as you enjoy welcome and live instrumental music.
The Maharajas' Express departs Delhi at 0700 hours for Agra.
Enjoy breakfast and lunch on board as you arrive into Agra. Join us for a session on the train for a tour brief and meet your facilitators during this exciting journey. As you reach the 'City of Mughal Splendour', visit the world famous Taj Mahal (one of the Seven Wonders of the World), built by the Mughal Emperor Shah Jahan as the mausoleum for his favourite queen Mumtaz Mahal. A UNESCO World Heritage Site, this incomparable marvel is constructed entirely out of white marble and is an architectural masterpiece with beautiful inlay work and marble screens.
Return to the Maharajas' Express. You may choose optional activities such as spa at a five star hotel or Mohabbat the Taj show or explore the city in your private car with guide.
Please contact the Guest Relations Executive for the optional activities.
Breakfast, Lunch and Dinner on board.
Overnight Stay at Luxury Train Maharajas Express – Treasures of India
Day 7 - Agra, Uttar Pradesh and Ranthambore National Park, Rajasthan-Monday
Early this morning, disembark to visit the exquisite Agra Fort. Later, enjoy relaxed breakfast on board as you travel to your next destination Ranthambore. Lunch shall be served onboard.
Arrive into Ranthambore and proceed for an exciting game drive in the Ranthambore National Park. Originally the private hunting ground of the Maharajas of Jaipur, Ranthambore was declared a National Park in 1973. The park is famous for its open sightings of tigers, sambar, chital, nilgai, chinkara, wild boar, sloth bear, hyena, jackal and leopard. The safari cannot be compared to that of Africa and you are indeed fortunate if you spot the elusive tiger or the shy leopard.
The safari is carried out in open vehicles and the ride is quite bumpy and dusty. You must carry adequate warm clothes for winter months.
Return to the Maharajas' Express. Dinner onboard as the Maharajas' Express proceeds for Jaipur.
Breakfast, Lunch and Dinner on board.
Overnight Stay at Luxury Train Maharajas Express – Treasures of India
Day 8 - Jaipur-Tuesday
Enjoy a leisurely breakfast on board.
Following disembarkation and a grand traditional welcome, begin your exciting tour of the pink city with a visit to Amber Fort at 0800 hrs. The Amber Fort, set in picturesque and rugged hills is a fascinating blend of Hindu and Mughal architecture. Constructed by Raja Man Singh I in 1592 and completed by Mirja Raja Jai Singh, the fort was made in red sand stone and white marble. The rugged forbidding exterior belies an inner paradise with a beautiful fusion of art and architecture. Amber is the classic and romantic fort-palace with a magnificent aura.
A short jeep ride takes you up to the fort where you will enjoy a tour of the royal apartments, with striking views of the gorge. Step back into the Mughal era as you enter the Chamber of Mirrors (Sheesh Mahal), and the Hall of Victory. Return to the train for a leisurely lunch on board.
You may also choose to participate in the optional activities such as Spa facilities at a five star hotel or visit the City Palace and Jantar Mantar (The Observatory) or explore the city in your private car with guide.
Please contact the Guest Relations Executive for the Optional services.
Proceed for an exclusive dinner at the Rambagh Palace Hotel. The Palace built in 1835 AD was the residence of the Maharaja of Jaipur from 1925 to 1957, when it was converted into a luxury hotel. The palace retains its royal splendour, hand-carved marble latticework, and elaborate gardens.
Afterwards, return to the station by 2100 hours as Maharajas' Express proceeds for Delhi.
Breakfast and Lunch on board. Dinner at Rambagh Palace Hotel.
Overnight Stay at Luxury Train Maharajas Express – Treasures of India
Day 9 - Delhi (Train Disembark)-Wednesday
08:00 Breakfast onboard 10:00 Disembark and bid farewell to the Maharajas' Express as your journey comes to an end Our company Executive will meet you at the Delhi Railway Station and will transfer you in a Private Air Conditioned Car to your pre booked Hotel Overnight stay at the Hotel in Delhi
Day 10 - Leave Delhi-Thursday
After breakfast check out from Hotel and our Executive will assist you and transfer you to Delhi International Airport to board Flight for Onward Journey END OF SERVICES Itinerary, destinations and scheduled departures may change without prior notice. Please contact your Guest Relations Executive for further details, prices and bookings of optional activities.
| Month | Days |
| --- | --- |
| December, 2023 | 12 |
| January, 2024 | 09 |
| March, 2024 | 05 |
| October, 2024 | 15 |
| November, 2024 | 12 |
| January, 2025 | 07 |
| March, 2025 | 04 |
This trip is only Operational between September till April and as per the Day & Date of Arrival mentioned  For the price of this Tour kindly fill out the Request Form and submit it to us. Please do not forget to give us your correct e-mail address and your contact telephone number. Click here to Request Price Our Expert Team will get back to you within 12 – 24 Hours with the complete day to day detailed itinerary, tour price, tour Inclusions and a full accommodation list. Alternatively, you may call us on : United Kingdom Clients : 01753 201201 or Whatsapp us on +447739716978 USA & Canada Clients : Toll Free 1-855-9-526526 or 416 619 7795 or Whatsapp us on +447739716978 Australia Clients : 61 – 2 – 86078986 or Whatsapp us on +447739716978 Email : great-vacation@btconnect.com , tailormadejourney@btinternet.com Our Team is waiting to assist you with any further enquiries you may have. Our holiday itineraries are planned with utmost care. In case you wish to modify any part of the Itinerary, our experts will help you to meet your requirements.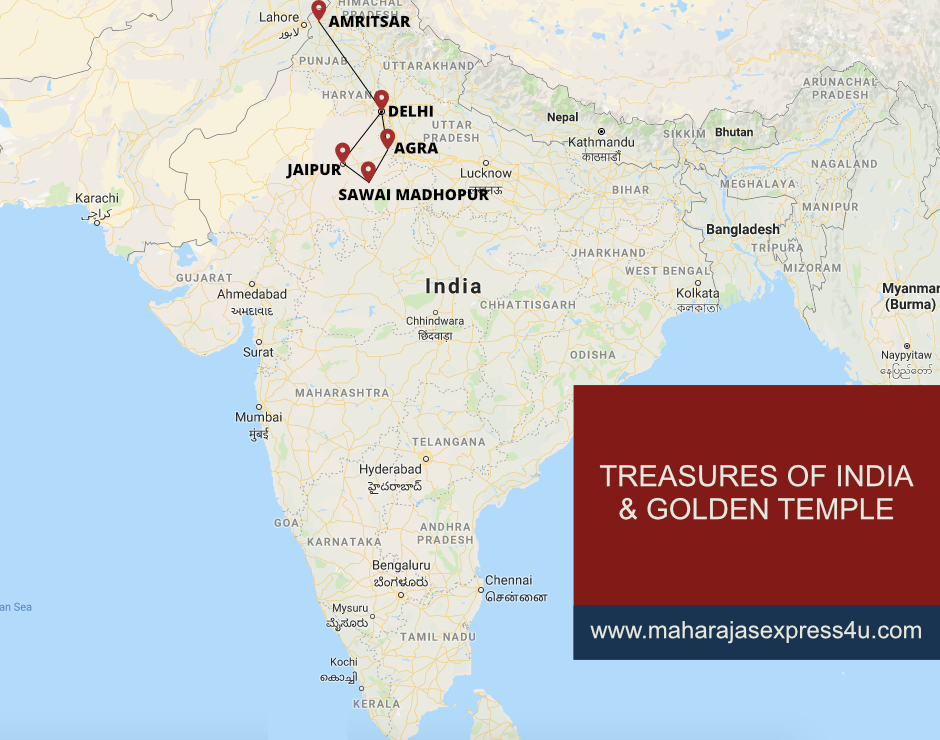 Award Winning – The Maharajas Express
India… a country with a history as old as time. A country where diverse dynasties have ruled through centuries, leaving their indelible imprint on the landscape, language and culture of the Indian Sub-continent. Majestic Palaces, Forts, Rich natural bounty, Untamed wildlife… there's so much to soak in and store memories for a lifetime while traversing on the Indian Panorama.
The Indian sub-continent is very vast and to undertake comfortable Luxury trips on various tour circuits will be a tiresome affair.
The tour circuit on this vast Indian landscape is made convenient by the Maharajas' Express – the latest Luxury Train and provides Luxury on wheels.
It offers five luxury train circuits on wheels to let one choose the best way to discover and explore the treasure trove and amazing Indian kaleidoscope.
The Luxury Tour Circuits on wheels, let one explore exotic locales such as a trip to one of the largest dinosaur fossil parks at Balasinor with opportunity to meet one of the Indian royal family, a trip to the erotic temples of Khajuraho, to participate in the Elephant activities at Jaipur, cocktail & barbeque sundowner on the sand dunes at Bikaner, champagne breakfast overlooking the immortal beauty of the Taj Mahal, boat trip on the Ganges at the holy city of Varanasi – and much more…
The unmatched ambience, contemporary amenities, impeccable service and luxurious decor provide a Royal Tours on board this Palace on wheels.
Maharajas' Express by providing an Experience Unsurpassed, with its mélange of providing immaculate on-board services and well designed Luxury Tour Circuits had made
The Metropolitan – New Delhi
The Metropolitan Hotel New Delhi is 5-minute drive from Connaught Place, It features an outdoor pool and 3 dining options. Situated in New Delhi's city centre, it also offers a fitness centre and spa. The Metropolitan Hotel & Spa is 1 km from New Delhi Railway Station, 500 m from Airport Express Metro Station (Shivaji Stadium) and 15 km from Indira Gandhi International Airport. Stylish air-conditioned rooms feature Indian motifs. Equipped with an iron and a flat-screen TV with cable channels, they also come with a minibar. Private bathrooms feature bath and shower facilities and a hairdryer. Guests can check e-mails at the business centre or relax at the full-service NeoVeda Spa, which offers massage services and a steam room. There is also a shop selling a range of items including hand-woven scarves, an assortment of teas and aromatherapy oils. Sakura Restaurant serves Japanese dishes, while Chutney Bar + Tandoor Restaurant offers Indian delights. The pool-side Zing Restaurant offers international fare and is open round-the-clock. In-room dining is possible.  Hotel has 178 Rooms
Divided in the Category of Deluxe , Club and Executive Suites.
The Lalit – New Delhi
Set in a grand building in bustling Connaught Place, The LALIT New Delhi welcomes guests with its full spa and outdoor pool. It offers an extensive range of 7 dining options, including some 24-hour ones. The Lalit is a 10-minute drive from New Delhi Railway Station, while Indira Gandhi International Airport is 24 km away. Spacious, soundproofed rooms offer subtle touches of Indian culture. Generously furnished with a flat-screen TV and DVD player, some rooms offer an iPod dock. An electric kettle and a minibar are provided in each room. Iron and ironing board can be requested. Guests can experience Ayurvedic and natural therapies at Rejuve spa, or opt for a work out in the fitness centre. Other facilities include a business centre, free private parking and The LaLit Galleria, which features a variety of shops. Dining options include Baluchi Indian restaurant and Woks Chinese restaurant. 24/7 Restaurant and Bar are open all day everyday for dining convenience. The hotel also has a 24-hour pastry shop for sweet cravings. Hotel offers 461 Rooms categorized under Deluxe Rooms , Premier Rooms , Executive Club, Suites
The Claridges New Delhi
Located in Lutyens New Delhi, The Claridges, New Delhi, offers rooms with old-world charm and contemporary furnishings. Just 3 km from the city centre, it has a temperature controlled outdoor swimming pool and 6 dining options. Free WiFi and parking is available. Wooden-floored rooms feature a satellite flat-screen TV and a pillow menu. Each is well-equipped with a minibar and tea/coffee making facilities. Safety deposit boxes and ironing facilities are available for guests convenience. The hotel has a variety of amenities including a health club. Mediterranean cuisine is served at Sevilla, while Dhaba offers North Indian fare. Pastries are available at Ye Old Bakery Patisserie and Jade serves Chinese food. Choose from beverages at Aura – The Vodka Bar. The Claridges is within 1.5 km from Delhi National Museum and Lodhi Gardens. Within 4 km of the hotel is Connaught Place. It is 13 km from Indira Gandhi International Airport.
The Leela Palace New Delhi
The Leela Palace New Delhi is a blend of Lutyen's architecture and the royal Indian culture. A pampering spa, 4 dining options and free parking are available. Elegantly decorated, air-conditioned rooms feature a high-definition flat-screen TV with a DVD player, floor-to-ceiling windows and wooden furnishings. A 2nd flat-screen TV in the bathroom is a mirror when turned off. The Leela Palace New Delhi is less than 10 minutes' drive from the India Gate. Indira Gandhi International Airport is 15 km while the Domestic airport is 13 km. The exclusive spa by ESPA offers an Ayurveda inspired day spa menu created for both women and men while rooftop temperature-controlled swimming pool offers the panoramic views of the city's skyline. Guests can also approach the 24-hour front desk to rent a computer or a car. Housed in a modern glass structure, The Qube offers an international and Indian buffet with open kitchens. Other dining options include Le Cirque and MEGU from New York, the award winning restaurants. Indian food is served at Jamavar . Drinks can be enjoyed at the hotel's 2 bars. Hotel offers 254 Rooms
Taj Swarna Amritsar
Taj Swarna, Amritsar embodies the best of Punjab's iconic history, art and culture. Fusing modern design with traditional elegance, Taj Swarna, Amritsar is a stylish, contemporary world class hotel, basking in an enviable location that serves Amritsar and the adjoining cities of Jalandhar and Ludhiana. The hotel features spacious rooms, an array of dining options, sophisticated meeting facilities, Health Club, Jiva Spa and Salon and is close to the main shopping area of the city. Taj Swarna, Amritsar captures the spirit of the city in all its glory, embodying the history, art, culture and vibrancy of Punjab with contemporary flair. The hotel pays tribute to local arts and crafts while bringing forth a global perspective to its edifice and the experiences created within. Gastronomically speaking, Taj Swarna, Amritsar serves up a multitude of delicacies, flavours and aromas. From a sprawling all day multi-cuisine diner to a speciality Chinese restaurant and an exclusive bar that houses exotic spirits from across the globe, palate pleasure seekers are in for a sensorial symphony. The hotel is optimized for events and offers a massive 7000 sq. ft. banqueting area accompanied by lush lawns. The hotel is also optimized for differently abled guests with wheelchair accessible elevators, trained staff, parking and more. Health and Wellness facilities abound at Taj Swarna, Amritsar. Right from Jiva spa, which offers signature wellness experiences to a fitness centre, sports trainers, a swimming pool, a Jacuzzi and a steam bath.
Radisson Blu Amritsar
Radisson Blu Hotel is just 1.5 km away from Amritsar International Airport . It features on-site dining restaurants, an outdoor pool and a fitness centre. Free Wi-Fi is available in the entire hotel. Jallianwala Bagh and Amritsar Railway Station is 12 km away from the property. Wagah Border is 33 km away from Radisson Blu Hotel. The Golden Temple is 12 km. All rooms have air conditioning, a satellite flat-screen TV and a minibar. En suite bathrooms come with free toiletries and shower facilities. For guests' convenience, the hotel offers a 24-hour front desk and currency exchange service. Travel and sightseeing tours can be arranged at the tour desk. Located at Lobby Level, Proof Bar is ideal for a relaxing evening and offers a wide range of beverages and snacks. Guests can enjoy à la carte and buffet meals offered 24 hours at Tavolo Mondo Restaurant or witness food being cooked in the open show kitchen while relaxing in calm jade decor at Wall of Asia Restaurant.
Hyatt Regency Amritsar
Hyatt Regency Amritsar is a 5-star Deluxe hotel of the city with an inventory of 248 rooms, located at a distance of 4.2 kms from the world-renowned Golden Temple. We provide complementary shuttle services to the Golden Temple. Hyatt Regency Amritsar is a 30 minutes' drive from the Guru Ram Das International Airport. The hotel is also right adjacent to the Mall of Amritsar on GT road. All air conditioned rooms are equipped with a king bed and pillow menu. A flat-screen TV and minibar are available. En suite bathrooms come with a bathtub. The property has three dining options. Guests can enjoy a meal in the all day dining restaurant Punjab Province and afternoon tea and evening cocktails can be enjoyed at the Scotch Haus. The hotel also provides a business centre and a 24-hour front desk.