The journey was carved through the abundance of nature in Himachal Pradesh during the British rule due to which the Kalka Shimla Toy toy train is bound to take you back to a completely different era in history and through one of the most scenic railway journeys in India. Set amidst beautiful hills and mystical woods, Shimla has been a very popular hill-station. Shimla is a very popular Hill station and is set amidst beautiful hills and mystical woods. Shimla is often covered with nearby towns of Kufri, a hill-station almost always covered by snow and Chail, famous for a huge palace and the highest cricket ground in the world. Tourists also visit the famous Jakhu Temple and engage in sightseeing at various viewpoints during their trip to Shimla. The Indian Splendor, this journey has redefined Rajasthan Luxury Tours. This grandiose odyssey has an extensive itinerary extending up to 8 days and each day a new visit awaits our gusts. Guests can examine the detailed beauty of the world's monumental icon of love the Taj Mahal, can spot the elusive tiger in the vivid greens of Ranthambore National Park,and can soak the spectacular regal heritage of Rajasthan in its magnificent forts, vibrant bazars and the royal cuisine. The journey will leave you with everlasting memories of a unique mix of Culture, History and Folklore and will show you a new meaning of India tourism.
Day 1 - Arrive Delhi - Monday
Upon arrival at the New Delhi Indira Gandhi International terminal 3 you would first do your immigrations and then go to the baggage belt to collect your baggage and then after clearing the customs you would be met in the Arrival hall by our Company executive who would wait with
your name placard and would assist you to your private Air Conditioned car and transfer you to your pre booked hotel
Overnight stay at the Hotel in Delhi
Day 2 -  Delhi -Tuesday
Breakfast in the Hotel
Later our executive will introduce you to your Guide who would then take you for a full day city tour of New and Old Delhi visiting Qutab Minar – which is the tallest brick minaret in the world, Humayun's Tomb – This tomb, built in 1570, is of particular cultural significance as it was the first garden-tomb on the Indian subcontinent, India Gate – a war memorial which was built to salute the brave Indian soldiers of the British Army who lost their lives in World War 1, Rastrapati Bhawan or the President's House and the Parliament Street where you can see various government buildings, Raj Ghat the cremation place of the Father of the Nation Mahatma Gandhi, the Red Fort, a perfect example of Mughal architecture built by Emperor Shah Jahan between 1639 and 1648, Jama Masjid one of the largest mosques in India. It was built by the Mughal Emperor Shah Jahan between 1650 and 1656 at a cost of one million rupees, and was inaugurated by Imam Syed Abdul Ghafoor Shah Bukhari from Bukhara, present-day Uzbekistan and cycle rickshaw ride into the narrow streets of Chandni Chowk, one of the oldest market of Asia full of spices, dried fruit, silver jewellery and vivid saris, while the narrow side streets are crowded with tiny shops selling essential oils, stationery and traditional Indian sweets
After the city tour you return back to the hotel and relax.
Overnight stay at the Hotel in Delhi
Day 3 - Wednesday - Delhi – Kalka (By Train Kalka Shatabdi Departure at 0740 Hrs Arrival 1145 Hrs) and Kalka – Shimla (By Toy Train Himalayan Queen, Departure at 1210 Hrs Arrival at 1720 Hrs)
Breakfast in the Hotel and Check Out
Our Executive will transfer you to the Delhi Railway Station to board Train for Kalka. Upon arrival in Kalka Railway Station you connect onward Toy train for Shimla. Upon arrival in Shimla Railway Station you are met and transferred to your pre booked Hotel
Overnight stay at the Hotel in Shimla
Day 4 - Thursday - Shimla
Breakfast in the Hotel
Shimla is the capital City of Himachal Pradesh. Shimla was declared the summer capital of the British Raj in India. Shimla is often referred to as the "Queen of Hills"
Day at leisure for personal activities
Overnight stay at the Hotel in Shimla
Day 5 - Friday - Shimla
Breakfast in the Hotel
Day Trip to Kufri
Kufri is a tiny hill station located near Shimla. It is famous for its trekking and hiking trails. Adventure-seeking travelers throng Kufri in winters to enjoy skiing and tobogganing along its snow-covered slopes.
Overnight stay at the Hotel in Shimla
Day 6 - Saturday - Shimla – Delhi (By Private Vehicle 340 Kms, 8 Hrs Drive)
Breakfast in the Hotel and Check Out
Later depart by Private Vehicle for Delhi. Upon arrival in Delhi check in at your pre booked Hotel
Overnight stay at the Hotel in Delhi
Day 7 - Sunday - Delhi – Board Maharajas Express Train – The Indian Splendour -: Safdarjung Railway Station, New Delhi
Breakfast in the Hotel and Checkout
Our executive will assist and transfer you to the Private Car and you are transferred to Delhi Safdarjung railway station to board Maharajas Express – The Indian Splendour
This morning, assemble at Delhi Safdarjung station at approximately 0600 hours and complete your registration and check in formalities,  sipping into your welcome drink and enjoying the instrumental music.
The Maharajas' Express departs Delhi at 0700 hours for Agra. Enjoy breakfast and lunch on-board as you arrive into Agra. Join us for a session on the train for a tour brief and meet your facilitators during this exciting journey.
As you reach the 'City of Mughal Splendour', visit the world famous Taj Mahal (one of the Seven Wonders of the World), built by the Mughal Emperor Shah Jahan as the mausoleum for his favourite queen Mumtaz Mahal. A UNESCO World Heritage Site, this incomparable marvel is constructed entirely out of white marble and is an architectural masterpiece with beautiful inlay work and marble screens.
Return to the Maharajas' Express. You may choose optional activities such as spa at a five star hotel or Mohabbat the Taj show or explore the city in your private car with guide.
Please contact the Guest Relations Executive for the optional activities.
Breakfast, Lunch and Dinner on-board.
Overnight Stay at Luxury Train Maharajas Express – The Indian Splendour
Day 8 - Monday - Agra and Ranthambhore
Early this morning, disembark to visit the exquisite Agra Fort. Later, enjoy relaxed breakfast on-board as you travel to your next destination Ranthambore. Lunch shall be served onboard.
Arrive into Ranthambore and proceed for an exciting game drive in the Ranthambore National Park. Originally the private hunting ground of the Maharajas of Jaipur, Ranthambore was declared a National Park in 1973. The park is famous for its open sightings of tigers, sambar, chital, nilgai, chinkara, wild boar, sloth bear, hyena, jackal and leopard. The safari cannot be compared to that of Africa and you are indeed fortunate if you spot the elusive tiger or the shy leopard.
The safari is carried out in open vehicles and the ride is quite bumpy and dusty. You must carry adequate warm clothes for winter months.
Return to the Maharajas' Express. Dinner onboard as the Maharajas' Express proceeds for Jaipur.
Breakfast, Lunch and Dinner on-board.
Overnight Stay at Luxury Train Maharajas Express – The Indian Splendour
Day 9 - Tuesday - Jaipur, Rajasthan
Enjoy a leisurely breakfast on-board.
Following disembarkation and a grand traditional welcome, begin your exciting tour of the pink city with a visit to Amber Fort at 0800 hrs. The Amber Fort, set in picturesque and rugged hills is a fascinating blend of Hindu and Mughal architecture. Constructed by Raja Man Singh I in 1592 and completed by Mirja Raja Jai Singh, the fort was made in red sand stone and white marble. The rugged forbidding exterior belies an inner paradise with a beautiful fusion of art and architecture. Amber is the classic and romantic fort-palace with a magnificent aura.
A short jeep ride takes you up to the fort where you will enjoy a tour of the royal apartments, with striking views of the gorge. Step back into the Mughal era as you enter the Chamber of Mirrors (Sheesh Mahal), and the Hall of Victory. Return to the train for a leisurely lunch on-board.
You may also choose to participate in the optional activities such as Spa facilities at a five star hotel or visit the City Palace and Jantar Mantar (The Observatory) or explore the city in your private car with guide.
Please contact the Guest Relations Executive for the optional services.
Proceed for an exclusive dinner at the Rambagh Palace Hotel. The Palace built in 1835 AD was the residence of the Maharaja of Jaipur from 1925 to 1957, when it was converted into a luxury hotel. The palace retains its royal splendour, hand-carved marble latticework, and elaborate gardens.
Afterwards, return to the station by 2100 hours as Maharajas' Express proceeds for Bikaner.
Breakfast and Lunch on-board. Dinner at Rambagh Palace Hotel.
Overnight Stay at Luxury Train Maharajas Express – The Indian Splendour
Day 10 - Wednesday - Bikaner , Rajasthan
Enjoy your journey through the countryside with breakfast on-board.
Arrives into the desert citadel of Bikaner and relax on-board or you may choose to embark on one of the optional tours to the Lalgarh Palace Museum displaying some fascinating exhibits on the royal heritage of Bikaner.
Please contact the Guest Relations Executive for the optional activities.
After your optional tours, return to the train for lunch.
Following lunch, disembark and proceed to the Junagarh Fort, an unassailable fortress built in 1593 AD by Raja Rai Singh. While the fort is a formidable structure encircled by a moat, its real beauty lies inside. Be overwhelmed by the Diwan-i-Khas, Phool Mahal (Flower Palace), Hawa Mahal, Badal Mahal and Anup Mahal.
Later experience the royal pageantry as a convoy of camel carts accompanied by musicians takes you for a Sundowner on the Sand Dunes. Enjoy cocktails, savour traditional mouth watering barbecue delicacies as you enjoy traditional folk arts like the Langaas and Kalbeliyas.
Return to the comforts of your train by 2015 hours and embark on your onward journey to Jodhpur.
Breakfast and Lunch on-board. Evening barbeque on dunes.
Overnight Stay at Luxury Train Maharajas Express – The Indian Splendour
Day 11 - Thursday - Jodhpur , Rajasthan
This morning, the Maharajas' Express, continues her journey into the stronghold of the Marwar region. Enjoy a leisurely breakfast on-board. The morning is at leisure on-board or you may participate in one of the optional tours to the Bishnoi villages to experience rural India or enjoy spa facilities at a 5 star hotel or visit to Umaid Bhawan Palace Museum and Jaswant Thada or explore the city in your private car with guide
Please contact the Guest Relations Executive for the optional activities.
Return to the train for lunch on-board.
After lunch visit the magnificent Mehrangarh Fort. Admire the intricate latticed windows, elaborately carved panels and elegantly carved arches followed by a walking tour of the Old Clock Tower Market.  As you reach the market on Tuk Tuks, get a glimpse of the daily lifestyle of the local residents, passing some of the old houses and havelis.
Enjoy an exclusive cocktail evening with a wide array of sumptuous Marwar culinary delights served at an exclusive venue.
Return to the train and continue your journey to picturesque Udaipur.
Breakfast and Lunch on-board. Cocktail dinner at Khaas Bagh.
Overnight Stay at Luxury Train Maharajas Express – The Indian Splendour
Day 12 - Friday - Udaipur , Rajasthan
This morning you will wake up in the picturesque region of Mewar, one of the most popular and royal states of the Rajputana. Admire the magnificent landscape of the Aravali Hills over a leisurely breakfast as you arrive into Udaipur – the City of Lakes.
Disembark the train at 1000 hours as you begin your visit with a boat ride on Lake Pichola. Following the boat ride, visit the City Palace, the largest palace complex in Rajasthan, with its scalloped arches, fretted balconies, and cupolas. Visit Mor Chowk and see its lavish mosaics of peacocks; Moti Mahal with beautiful mirror work; Chini Mahal covered in ornamental tiles and the spectacular Zenana Mahal. Visit The Crystal Gallery and the Darbar Hall with an audio guide. Feel like a king as you experience the hospitality at the Satkar Hall of Fateh Prakash Palace reminiscent of the ancient Mewar glory. Feast your taste buds over a spread of Indian cuisine.
Following lunch return to the train for a relaxed afternoon on-board as train proceeds for Mumbai. Enjoy an 'Indian evening' on-board, raising a toast to a memorable experience.
Breakfast on-board. Lunch in Satkar Hall of Fateh Prakash Palace. Dinner on-board
Overnight Stay at Luxury Train Maharajas Express – The Indian Splendour
Day 13 - Saturday - Mumbai (Train Disembark)
Enjoy relaxed morning on-board, you will disembark at around 1635 hours at Chatrapati Shivaji Maharaj  Terminus (CSMT) in the financial capital city of Mumbai. Bid farewell to the Maharajas' Express as your 'The Indian Splendour' journey comes to an end. The royal journey is over, but the memory of which, will live on forever!
Our executive will meet you at Mumbai railway Station and he will assist and transfer you to your pre booked Hotel.
Overnight stay at the Hotel in Mumbai
Day 14 - Sunday - Leave Mumbai
Breakfast in the Hotel and Check out from Hotel and our Executive will assist you and transfer you to Mumbai International Airport to board Flight for Onward Journey
End of Services
Itinerary, destinations and scheduled departures may change without prior notice.
Please contact your Guest Relations Executive for further details, prices and bookings of optional activities.
| Month | Days |
| --- | --- |
| December, 2023 | 25 |
| January, 2024 | 22 |
| February, 2024 | 19 |
| March, 2024 | 18 |
| September, 2024 | 30 |
| October, 2024 | 28 |
| November, 2024 | 25 |
| December, 2024 | 23 |
| January, 2025 | 20 |
| March, 2025 | 17 |
This trip is only Operational between September till April and as per the Day & Date of Arrival mentioned 
For the price of this Tour kindly fill out the Request Form and submit it to us. Please do not forget to give us your correct e-mail address and your contact telephone number.
Our Expert Team will get back to you within 12 – 24 Hours with the complete day to day detailed itinerary, tour price, tour Inclusions and a full accommodation list.
Alternatively, you may call us on :
United Kingdom Clients : 01753 201201 or Whatsapp us on +447739716978
USA & Canada Clients : Toll Free 1-855-9-526526 or 416 619 7795 or Whatsapp us on +447739716978
Australia Clients : 61 – 2 – 86078986 or Whatsapp us on +447739716978
Email : great-vacation@btconnect.com , tailormadejourney@btinternet.com
Our Team is waiting to assist you with any further enquiries you may have.
Our holiday itineraries are planned with utmost care. In case you wish to modify any part of the Itinerary, our experts will help you to meet your requirements.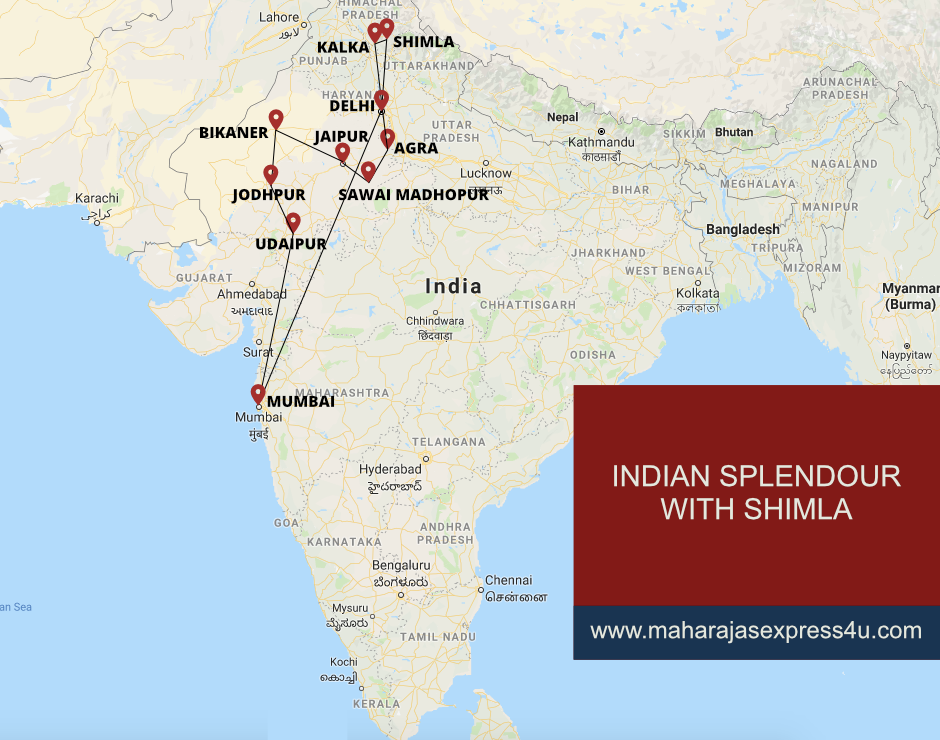 Award Winning – The Maharajas Express
India… a country with a history as old as time. A country where diverse dynasties have ruled through centuries, leaving their indelible imprint on the landscape, language and culture of the Indian Sub-continent. Majestic Palaces, Forts, Rich natural bounty, Untamed wildlife… there's so much to soak in and store memories for a lifetime while traversing on the Indian Panorama.
The Indian sub-continent is very vast and to undertake comfortable Luxury trips on various tour circuits will be a tiresome affair.
The tour circuit on this vast Indian landscape is made convenient by the Maharajas' Express – the latest Luxury Train and provides Luxury on wheels.
It offers five luxury train circuits on wheels to let one choose the best way to discover and explore the treasure trove and amazing Indian kaleidoscope.
The Luxury Tour Circuits on wheels, let one explore exotic locales such as a trip to one of the largest dinosaur fossil parks at Balasinor with opportunity to meet one of the Indian royal family, a trip to the erotic temples of Khajuraho, to participate in the Elephant activities at Jaipur, cocktail & barbeque sundowner on the sand dunes at Bikaner, champagne breakfast overlooking the immortal beauty of the Taj Mahal, boat trip on the Ganges at the holy city of Varanasi – and much more…
The unmatched ambience, contemporary amenities, impeccable service and luxurious decor provide a Royal Tours on board this Palace on wheels.
Maharajas' Express by providing an Experience Unsurpassed, with its mélange of providing immaculate on-board services and well designed Luxury Tour Circuits had made
The Metropolitan – New Delhi
The Metropolitan Hotel New Delhi is 5-minute drive from Connaught Place, It features an outdoor pool and 3 dining options. Situated in New Delhi's city centre, it also offers a fitness centre and spa. The Metropolitan Hotel & Spa is 1 km from New Delhi Railway Station, 500 m from Airport Express Metro Station (Shivaji Stadium) and 15 km from Indira Gandhi International Airport. Stylish air-conditioned rooms feature Indian motifs. Equipped with an iron and a flat-screen TV with cable channels, they also come with a minibar. Private bathrooms feature bath and shower facilities and a hairdryer. Guests can check e-mails at the business centre or relax at the full-service NeoVeda Spa, which offers massage services and a steam room. There is also a shop selling a range of items including hand-woven scarves, an assortment of teas and aromatherapy oils. Sakura Restaurant serves Japanese dishes, while Chutney Bar + Tandoor Restaurant offers Indian delights. The pool-side Zing Restaurant offers international fare and is open round-the-clock. In-room dining is possible.  Hotel has 178 Rooms
Divided in the Category of Deluxe , Club and Executive Suites.
The Lalit – New Delhi
Set in a grand building in bustling Connaught Place, The LALIT New Delhi welcomes guests with its full spa and outdoor pool. It offers an extensive range of 7 dining options, including some 24-hour ones. The Lalit is a 10-minute drive from New Delhi Railway Station, while Indira Gandhi International Airport is 24 km away. Spacious, soundproofed rooms offer subtle touches of Indian culture. Generously furnished with a flat-screen TV and DVD player, some rooms offer an iPod dock. An electric kettle and a minibar are provided in each room. Iron and ironing board can be requested. Guests can experience Ayurvedic and natural therapies at Rejuve spa, or opt for a work out in the fitness centre. Other facilities include a business centre, free private parking and The LaLit Galleria, which features a variety of shops. Dining options include Baluchi Indian restaurant and Woks Chinese restaurant. 24/7 Restaurant and Bar are open all day everyday for dining convenience. The hotel also has a 24-hour pastry shop for sweet cravings. Hotel offers 461 Rooms categorized under Deluxe Rooms , Premier Rooms , Executive Club, Suites
The Claridges New Delhi
Located in Lutyens New Delhi, The Claridges, New Delhi, offers rooms with old-world charm and contemporary furnishings. Just 3 km from the city centre, it has a temperature controlled outdoor swimming pool and 6 dining options. Free WiFi and parking is available. Wooden-floored rooms feature a satellite flat-screen TV and a pillow menu. Each is well-equipped with a minibar and tea/coffee making facilities. Safety deposit boxes and ironing facilities are available for guests convenience. The hotel has a variety of amenities including a health club. Mediterranean cuisine is served at Sevilla, while Dhaba offers North Indian fare. Pastries are available at Ye Old Bakery Patisserie and Jade serves Chinese food. Choose from beverages at Aura – The Vodka Bar. The Claridges is within 1.5 km from Delhi National Museum and Lodhi Gardens. Within 4 km of the hotel is Connaught Place. It is 13 km from Indira Gandhi International Airport.
The Leela Palace New Delhi
The Leela Palace New Delhi is a blend of Lutyen's architecture and the royal Indian culture. A pampering spa, 4 dining options and free parking are available. Elegantly decorated, air-conditioned rooms feature a high-definition flat-screen TV with a DVD player, floor-to-ceiling windows and wooden furnishings. A 2nd flat-screen TV in the bathroom is a mirror when turned off. The Leela Palace New Delhi is less than 10 minutes' drive from the India Gate. Indira Gandhi International Airport is 15 km while the Domestic airport is 13 km. The exclusive spa by ESPA offers an Ayurveda inspired day spa menu created for both women and men while rooftop temperature-controlled swimming pool offers the panoramic views of the city's skyline. Guests can also approach the 24-hour front desk to rent a computer or a car. Housed in a modern glass structure, The Qube offers an international and Indian buffet with open kitchens. Other dining options include Le Cirque and MEGU from New York, the award winning restaurants. Indian food is served at Jamavar . Drinks can be enjoyed at the hotel's 2 bars. Hotel offers 254 Rooms
The Oberoi Mumbai
The Oberoi offers luxury and convenience with its 24-hour spa, fitness and concierge service. It also features 5 food and beverage options offering a variety of cuisines. Free WiFi is available for 30 minutes. The Oberoi Mumbai's elegant rooms feature wooden floors, large windows offering beautiful views and en suite bathroom separated by a glass panel with electronic blinds. Rooms are equipped with an LCD TV, tea/coffee maker and iPod docking station. Free local newspapers are available. Guests can relax with a swim at the outdoor heated pool or enjoy shopping at the high-end shopping arcade. The Oberoi Spa offers a variety of treatments and therapies. Guest services include 24-hour laundry service and babysitting. European, Asian and Indian specialities are featured on the menu at Fenix, alongside traditional Japanese delicacies. Vetro serves Italian dishes, while Indian cuisine can be savoured at Ziya. The Eau Bar overlooks the Arabian sea and features a live Jazz band. The Champagne Lounge serves an extensive selection of Champagne and teas. Situated at Nariman Point at the end of Marine Drive, The Oberoi Mumbai is a 45-minute drive from Mumbai's Chhatrapati Shivaji International Airport. A 20-minute drive leads to the railway station. Hotel Offers 287 Rooms
Trident Bandra Kurla Mumbai
Trident Bandra Kurla provides an outdoor swimming pool and full spa services. Concierge services and room service are available 24 hours. Stylish with accents of red, the air-conditioned rooms are equipped with a flat-screen TV, DVD Player and iPod connections. A well-stocked minibar and a personal safe are also included. En suite bathrooms come with either a shower or a bathtub. Trident Bandra Kurla is located in North Mumbai, a 15-minute drive from the domestic airport. It is a 20-minute drive from Chhatrapati Shivaji International Airport and a 40-minute drive from Western Railway Terminus. Botticino restaurant serves fine wine and Italian dishes, while 022 restaurant offers an interactive sushi bar, as well as Western and Asian food. Other dining options include regional Indian food at Maya restaurant and salads at Trident Patisserie & Delicatessen. At Trident Spa & Fitness Centre, guests can look forward to relaxing massage treatments or a good workout at the gym. Hotel offers 436 Rooms
Taj Mahal Palace , Mumbai
Standing majestically opposite the Gateway of India, this iconic 5-star hotel features a landscaped pool, fitness facilities and a first-rate spa. The hotel provides 11 dining options. Hotel offers 560 Rooms. The Taj Mahal Palace & Tower is 2 km from Mumbai's city centre and 32 km from Chhatrapati Shivaji International Airport. Free parking is available. Featuring a private balcony, elegant rooms are tastefully furnished with fine linen and classic wood furnishings. They offer the comfort of a flat-screen TV, sofa and luxurious bathrooms that feature a bathtub. Enjoy the use of steam rooms and sauna facilities after an energizing workout at the well-equipped gym. Attentive staff at Taj Mahal Palace offer childcare, tour and concierge services. Hearty meals featuring Indian specialities are availabe at Masala Kraft. Other dining highlights include Golden Dragon Chinese restaurant, Mediterranean fare at Souk and Wasabi Japanese restaurant.
Oberoi Wildflower Hall
Situated at 8,000 feet above sea level, Wildflower Hall is unique amongst luxury hotels in Shimla.
At Wildflower Hall, Shimla in the Himalayas, guests can refresh with nature walks, rafting, cycling or yoga, or relax and rejuvenate with an exclusive spa therapy.
Guests looking for a luxury dining restaurant in Shimla will delight in our main restaurant, which spans a smart, brightly lit indoor dining space, a charming glass conservatory with intimate seating arrangements and an outdoor terrace, which has magnificent views of the Himalayas. The menu features pan-Indian (including local Himachali), Asian and Continental cuisine. Adorned with antique war memorabilia, our Cavalry Bar is a wonderful setting for an aperitif, a nightcap or to enjoy an interactive history session, while the intimate Lutyens Hall is perfect for private dinner parties.
Wildflower Hall offers relaxing, rejuvenating treatments unmatched by other spa hotels in Shimla. The Oberoi Spa affords exclusive massage, yoga and Ayurvedic treatments at bespoke locations around the hotel and grounds. Our open air whirlpool has magnificent views across the Greater Himalayas, while our indoor pool, lit and adorned by overhead crystal chandeliers, is temperature controlled throughout the year.
Radission Shimla
Take in Mountain Views from Our Shimla Hotel
Situated in the Himalaya Mountains, Radisson Jass Shimla offers scenic vistas that are sure to inspire. Step into the hotel to enjoy a soothing treatment in our on-site spa or swim in the multi-tiered pool. Stay two kilometres from popular area attractions like the Gaiety Heritage Cultural Complex, Jakhu Temple and Christ Church. During your visit, you can stay connected with free high-speed Internet access or disconnect by unwinding with a drink in the lounge. As an added convenience, Shimla Airport (SLV) is only 26 kilometres away.